Are you ready for ENTREPRENEURSHIP?
If you're tired of feeling stuck, running around in circles, trying to "make it work" without seeing results –
I got good news.
It's not your fault.
With all the confusing advice out there, it's hard to sift through the noise and figure out the best way to grow your business online.
What if I told you that starting a business is not as difficult as you think?
"I'm convinced that about half of what separates the successful entrepreneurs from the non-successful ones is pure perseverance."
Does This Sound Like You?
* You know you are meant to be an entrepreneur, but you can't figure out how to put all the pieces together to get started.

* You dream of the day you can own your own business and work for yourself.

* You are smart, ambitious and driven. You know you can succeed at owning your own business, you just need some guidance and support to get started.

* You are a perfectionist and tend to procrastinate, which results in feeling stuck and not getting much done.

* You have 99 ideas, but you can't pick one. You could really succeed if you had someone to help you with focus, direction and implementing your ideas.

The Solution!
How long have you been daydreaming about the last clock punch and finally kissing the 9 to 5 job (and your horrible boss) goodbye?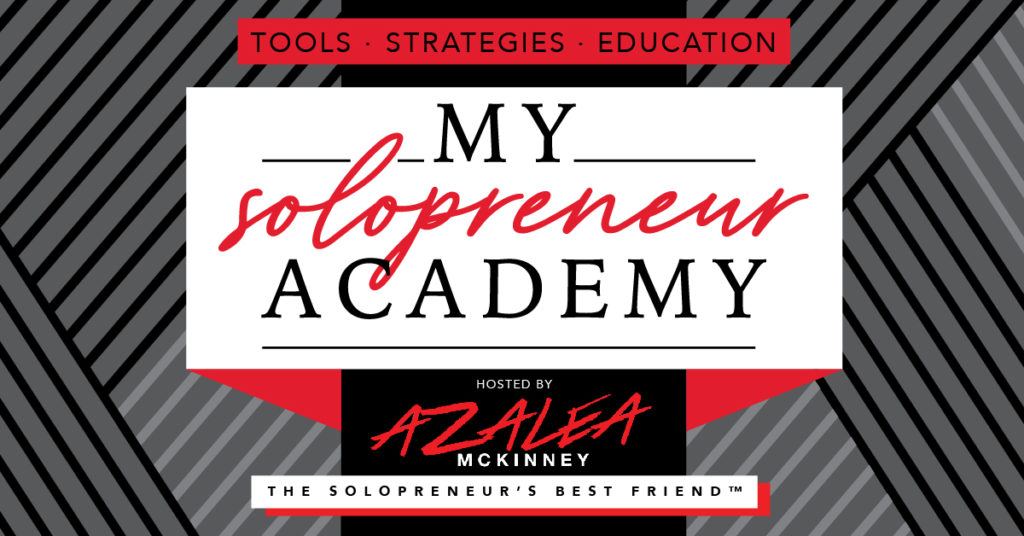 START
Learn how to identify your
PROFIT PLATFORM
GROW
Learn how to REFINE your IDEAS and build REVENUE
BUILD
SCALE your BIZ through AUTOMATION
In the Houston Area? Check out our upcoming event!
Launch Your Biz Right - A Path to Entrepreneurship!
My Solopreneur Academy's Signature Program designed for your entrepreneurial success!
6 Week Online MasterClass
accelerated self-study workbook